Day 1
Arrive at Ayers Rock Airport and meet your shuttle transfers. The drivers are experience locals who will often give you tips as they drop off at each accommodation. Arrive at accommodation and check in.
Accommodation: Sails in the Desert
Sails in the Desert is a five-star accommodation with mostly ground floor rooms. All rooms come with private bathrooms and air-condition. The accommodation has pool for some down time and also if you're feeling up to it, a tennis court, although it's pretty hot in the outback.
Freshen up and enjoy a delicious cocktail at the Walpa Lobby Bar before you head out on A Night at Field of Light. A shuttle bus will collect you from your accommodation where you will be dropped off at a sunset viewing platform. Here you will enjoy canapes and champagne as the sunsets over Uluru. Watch the colours transform as the sun drops.
Your guide will then direct you to your outback dining experience. Here you will be seated with other travellers and talk about your special bonding with Uluru. Enjoy a scrumptious buffet dinner which includes barramundi, crocodile and kangaroo whilst the local plays the didgeridoo.
After dinner, you'll enjoy countless stars and be joined by a guide who will do a star talk and how the traditional indigenous people of Yulara use the stars for directions.  Soon you will be invited to self-guide through the magical installation from Bruce Munro 'Field of Light'. Its pathways glistening softly with rhythms of coloured light, beckoning you to explore.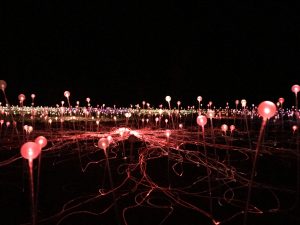 Day 2
Rise and Shine! Your shuttle bus will meet you at the accommodation and you will journey into the Uluru national park at a sunrise viewing platform. Enjoy a warm cup of tea/coffee as you watch the colours change dramatically as the sunrises over Uluru.
Next, you'll get up close and personal to Uluru as you complete a small base walk. The short Kuniya walk runs from the Kuniya carpark to Mutitjulu Waterhole. The presence of water means this area is particularly lush and shady. Mutitjulu Waterhole is a special place where Uluru's traditional owners regularly take VIPs.
Return back to your accommodation and enjoy free some free time before walking over to the local town. Meet your guide to complete a one and half hour dot painting experience.  You will learn about ancient symbols used in Anangu art and teaching by a local Anangu artist. Now it's your turn to demonstrate your skills and create artwork that means something special to you.
This afternoon met your shuttle transfer as this tour takes you to the inspiring red-hued sedimentary rock domes of Kata Tjuta (the Olgas) to watch the sunset. They are thought to have originally been one huge piece of rock, much like Uluru, that has weathered over millions of years to become an intriguing series of individual formations. As evening approaches, each passing minute brings something new as the domes continue to change colour with the setting sun.
Return to your accommodation and enjoy the a delicious buffet dinner at Ilkari restaurant.
Day 3
Early morning as your shuttle collects you for your sunrise camel tour! Enjoy a peaceful one-hour tour with your new friend. Witness the sunrise over Uluru and Kata Tjuta. Return back to the camel farm where you'll enjoy a light breakfast of freshly baked beer bread damper. If you have time, you might be lucky enough to see some of the other camels in the back of the farm along with some other friendly animals like kangaroos and emus.
Head back to your accommodation and get ready to depart for your journey home,